Here comes the guy! Porto Wedding Photographer
My take on groom portraits is a very straightforward and easy-going one. I believe in most cases the groom and his groom's men are not fully keen on how complex their photos can be and I think they just want to have a good time and get some shots done.
With that in mind, I try to make it very easy and pleasant for the guys. I look to connect on a personal level, with some jokes and some small talk. Just to make them feel relaxed and willing to be working with me.
Complementing their look is always a good way to start a portrait session. Saying he really looks great and like a million dollars. Also, congratulate him and wish him all the best in their new life chapter together.
I do pay attention to the groom's personality and what makes him tick. After all, it's his big day too and I need to be all in and be there for him. Make it special and meaningful for the groom.
Poses
I like to get poses showing some details like ties, cufflinks, and any other unique details he might have for the wedding day.
The groom and the groom's men usually are in a celebratory mood and I'm paying attention to any toast that may occur.
I also take the majority of groomsmen photos pre-ceremony—which only takes about 20 to 25 minutes. This includes group and individual photos with each groomsman and the groom. I also capture creative group shots, such as congratulatory poses (where the groomsmen give kudos to the groom) and walking shots with groomsmen in formation.
It can be unpredictable
It's always a fun time with the guys and is also unpredictable in many cases. This cheers above happened totally unexpectedly and on the spur of the moment. My job is to be ready to fire at all times.
Sometimes you plan ahead but the best shots happened spontaneously and in the moment. I love when I can tell a story, document, what is actually happens, and just need to direct a bit in case there is not much going on.
I do prepare and I do direct the groom but always respecting the moment and going along with the flow to not only get a great shot but to also portray his personality and tell a story.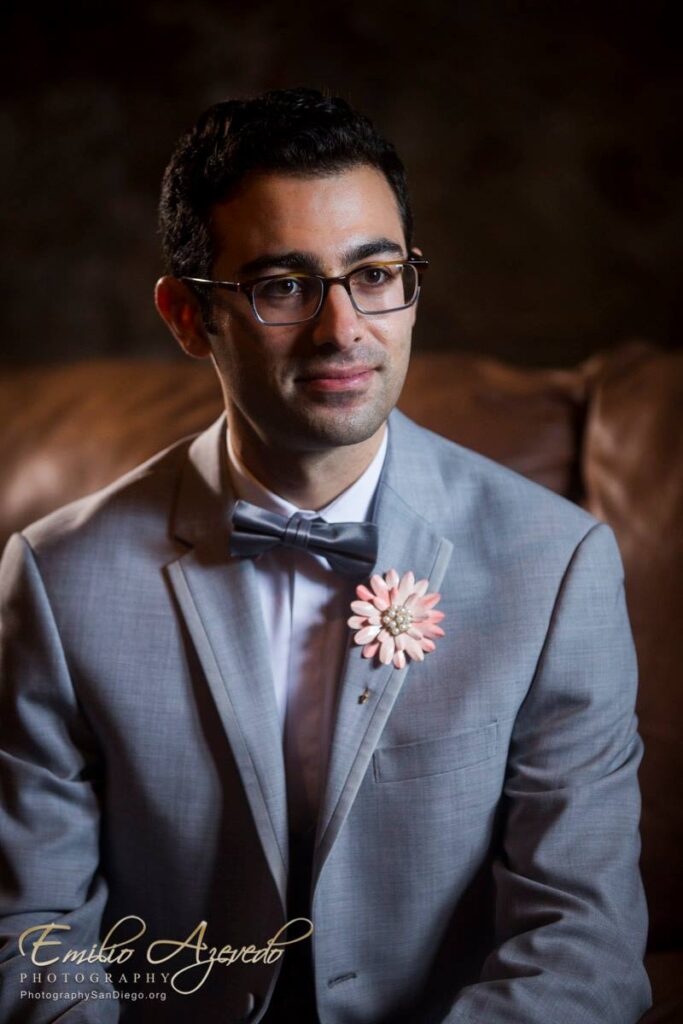 One of the sweetest groom photos is the groomsmen helping the groom tie his tie or bow tie. While it may be posed, the groomsmen never look at the camera for this one. This is a special moment and great for photos.
Fun shots with all the guys standing, on power positions are also great shots to have. Is that moment they are all dressed up, feeling great and ready for the day.
It's also a great idea to photograph the guys during the reception where everyone is more relaxed with no more pressure and no timeline to follow. You then can really see the guy's true personality and sometimes is when they shine the most. You can get creative with light and setup.
I truly love my job. Documenting a wedding day is something that I don't take lightly. A lot of times it's my client's first big project together. Hopefully, the photos will be enjoyed and cherished in the family for generations to come. A family heirloom. So telling a story of a couple on their wedding day with justice and care is a must.
I photographed more than 500 brides and I can't stress enough how important it is to hire a professional photographer. A lot of times the wedding day is when he will look his best because of the moment he is in, he is glowing and radiant with happiness, It's the photographer's duty to make him look the best. 
Getting married in Porto, Portugal? For more info or to book your free consultation just reach out to me here.
See more of my work go to: emilioazevedophotography.com
For Porto Destination Wedding Photographer
About Porto Wedding photography
Lisbon Event Planner:
Fernanda.events
Somethingnew.pt
Madeindreams.pt
Porto Event Planner:
Portoforweddings.com
Portugal Wedding Venues: